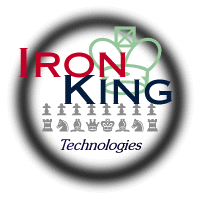 Welcome to the new IronKing Technologies development web site. We are constantly trying to improve and find new ways to provide community service to local non-profit associations. If you would like to have a web site created, please E-mail me at ceterskj@up.lib.mi.us, Thanks, Justin Ceterski.
Chess is one of the most popular sports on the Internet. It has dominated all areas of the Internet with live games found on Telnet servers, wonderful information pages on the WWW, and list servers providing newletters to many people around the world.

Member of the Internet Link Exchange

New!! Check out my guestbook and add your comments!
There have been
people that have visited my homepage.
Designed by Justin Ceterski